The 2019 Friends of Don Sather fundraising event was held on Saturday, Sept 7th at Banns Bar & Restaurant. The turnout was amazing. It was literally a family a reunion of Don's friends. Everyone had fun with the games and the comradarie. The BBQ Pork dinner put on by the Bann's crew and Mike Crom was delicious. Entertainment went well into the night, as the crowd stayed to enjoy music. Bruce Miller told his infamous Don's favorite joke: Sven and Ole playing 21 questions. If you've never heard it, it's worth the trip just to hear that.

ALS continues to be a devastating disease, and one that we are committed to fight, in Don's memory! This year's turnout proved that the McGregor community and friends of Don are behind Don and his wish to defeat ALS.
This was our 12th Annual Fundraising Event. To date, we have donated $32,000 to the MN ALS foundation, and over $20,000 in scholarships to McGregor High School graduates. This year's event raised over $16,000, which is the most successful event since Don was with us for the very first one. We are more excited than ever that we will soon be able to reach our goal of a perpetual scholarship in Don's name.

A sincere THANK YOU to all who attended the event, as well as those who helped work, provided amazing silent auction and door prize donations, and especially to our sponsors, who have continued to show us their support year after year. Please visit our Sponsors page, and show your support to these generous people and businesses that support us.
We are now an IRS approved 501c3 not-for-profit organization, so your donations are 100% tax deductible.

==================================================

Check out the summary on our History tab and check out our pictures from prior year's activities. We continue to raise money that goes to continuing research to find a cure for ALS, and toward scholarships for our local McGregor graduates. Thanks again for all our generous sponsors who continue to contribute to this event.
Please vist our Sponsors tab and thank them for what they do for our community, and keep them in mind when considering services they provide.

We look forward to seeing everyone again this year!!

Online Donations are always accepted on the Make a Donation tab

--------------------------------------------------------------------------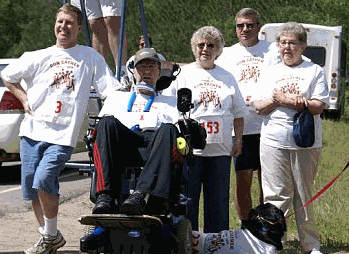 This site was created by the friends of Don Sather to better educate, communicate, and promote our mission of honoring Don Sather and fulfilling his wishes. Please read our MISSION statement for a better understanding of the reasons his friends have started this organization, as well as our goals and objectives.

This organization is comprised of 50+ volunteers who who are friends of Don and the entire Sather family.

We coordinate an annual 5K (3.1 mile) run/walk as the primary fundraising activity to meet our goals.

Please see the HISTORY tab for background information since the inception of this organization. This includes a brief summary of all the events associated with the organization.

The Scholarships tab contains information and pictures of the recipients of Don Sather Memorial Scholarship Fund.

The PHOTOS tab has pictures of Don and friends. A side link will bring you to photos from his 50th birthday party. You will also find a link to a ShutterFly website that has all the pictures of all events. Pictures on this site are available for purchase.

The SPONSORS tab includes a list of the sponsors who have generously contributted to our cause. We depend on them greatly, and they are all great friends of Don, so please acknowledge their contributions. They are friends of Don, so you can count on them to be your friend too.

The LINKS tab will guide you to other web-sites relevant to our mission.

Go to the EMAIL US tab to contact our organization with your ideas and comments.

Online donations can be made by going to the Donations tab. Payment can be made via PayPal which allows you charge it to your credit card or directly debit you bank account. If you don't have a PayPal account you can use their Guest account feature.

Find us on Facebook